WordPress is the finest platform for educational institutions to build their websites since it requires just a small investment and takes only a few hours to set up and maintain education WordPress themes. It is critical for any educational business to have a website so that students can easily find the information they want. You may also use the website to automate daily tasks, which will save you money in the long run.
Related
To assist you enrol new students, you may publish all of your course information and the enrollment procedure on your website. There can be no educational institution using a simple blogging theme since educational institutions require their own unique features and designs. These are some of the Best Education WordPress Themes, and using one of them will allow you to set up an effective educational website in no time.
Fable

Aside from kindergarten projects, Fable – Children Kindergarten WordPress Theme is also excellent for any children or education-related projects such as toy tale, babysitting (babysitter) websites, summer camp websites, education courses, and craft or art schools. Fable is a visually spectacular, creative and vivid WordPress theme that has been specifically designed for kindergarten and preschool, child care and nursery, education, and children-related undertakings. Fable is a well-structured, feature-rich, and responsive WordPress theme. Fable is an excellent Theme for projects that place a major emphasis on dealing with children or that are linked to children and their developing activities.
Eduma

Eduma is the most popular WordPress theme for eLearning and is used by over 500,000 people globally. It is the #1 WordPress LMS that has been created with current UI/UX in mind. Take advantage of the greatest available theme option for your company, one that is SEO optimized and includes a valuable performance metric, to help you succeed. Eduma is integrated with over 20 pre-built education demonstrations, as well as a drag and drop page builder, making it a powerful learning management system. Using this WordPress theme, you can also design a giant menu that is multilingual in nature.
Turitor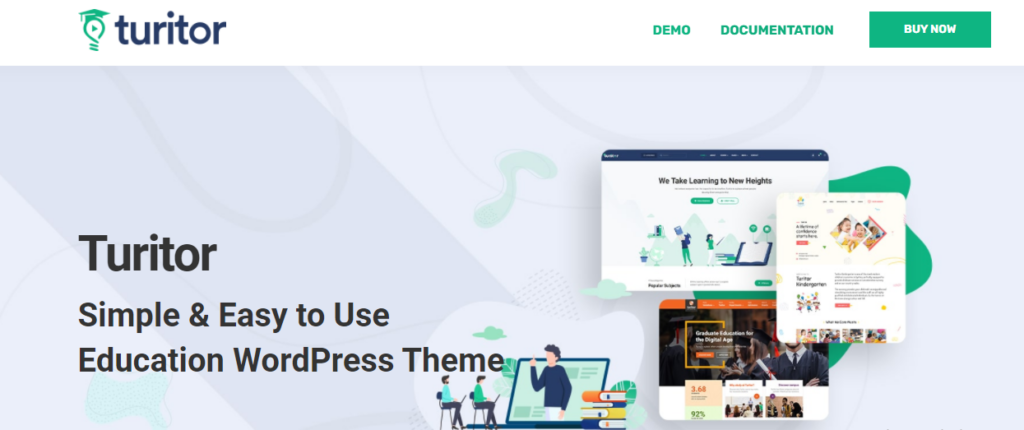 A fantastic Learning Management System (LMS) and Education LearningDash, LearnPress, and Tutor LMS are just a few of the popular learning management system (LMS) plugins that may be integrated with the WordPress theme. When you combine this fact with a massive number of mind-blowing demos, you get the most adaptable school WordPress theme available. As an added bonus in terms of its versatility, the theme is compatible with a large number of additional plugins and addons, such as Elementor and the ElementsKit library, and the default block editor does not fall into this category.
Education Hub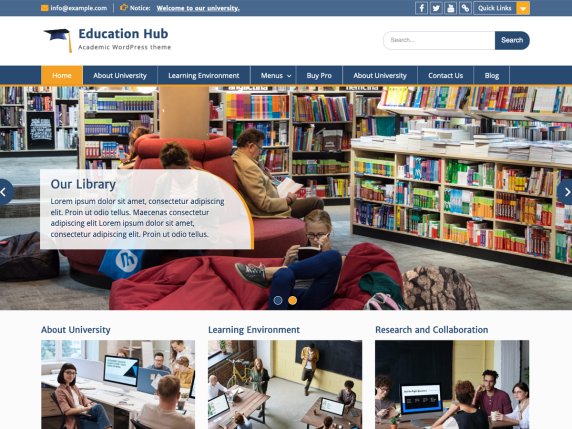 Education Hub is a simple and elegant WordPress education theme with a minimalist yet distinct appearance and feel. It is suitable for any educational institution. This theme is best suited for educational websites such as those for colleges, schools, universities, and other educational institutions. However, this subject is not restricted to being appropriate for educational websites solely. This is also adaptable enough to be utilized for commercial and corporate websites as well as personal websites.
Higher Education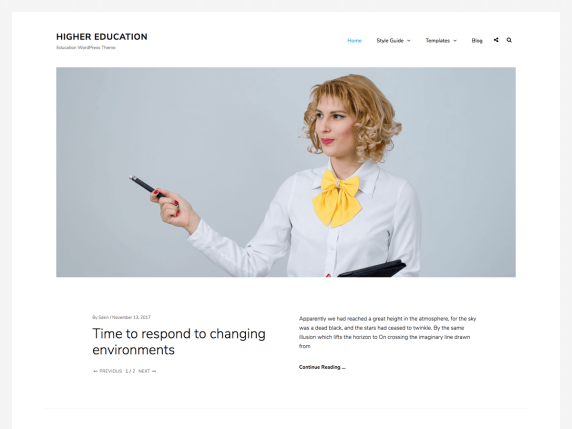 In order to meet the needs of educational institutions such as colleges and universities, Higher Education was created with simplicity, cleanliness, and use in mind. Your website's flexible layout and attractive design make it inviting. The theme makes it simple for your visitors to go to any part of your site they choose. In addition, the Higher Education WordPress theme offers a wide range of advanced theme modification possibilities. Custom header media, logo, menu, social icons, featured slider and hero content are just a few of the many elements that may be used to customize the look and feel of your website. Higher Education is ideal for academic institutions of all kinds, including colleges, universities, language schools, and professional training programmes.
Education Minimal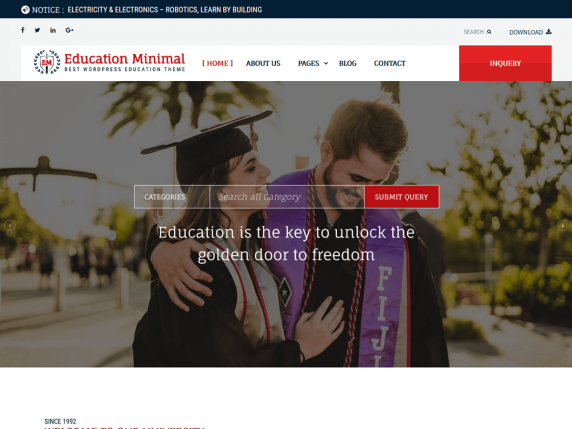 Education Minimal is a free WordPress theme that is simple and minimalist in design. It is primarily intended for use in educational settings such as schools, colleges, universities, and institutions, among others. However, it may be used for a variety of other reasons as well. This theme provides you with an outstanding looking website that is ready to go as soon as you add your content. It also includes additional functionality.
Education Master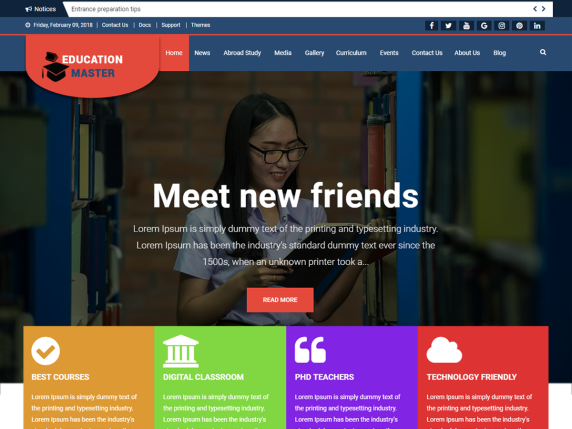 Education Master, an Education theme by ThemeEgg, is a responsive WordPress theme for educational institutions such as universities, schools, colleges, and other similar establishments. Education Master is not only suitable for educational institutions, but it is also adaptable and packed with features that enable it to meet the requirements of design firms, corporate websites, and small enterprises.
Education Insight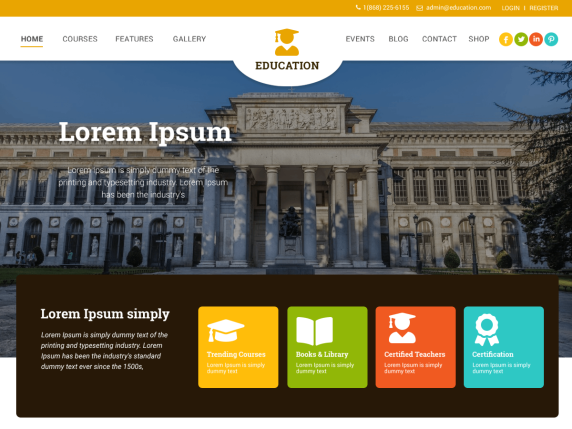 Education insight is a stylish, contemporary, easy-to-use, and responsive WordPress education theme with a colorful style and incredible versatility. It is perfect for any educational website. This theme is capable of meeting the requirements of websites for educational institutions of all kinds, including universities, colleges, and schools, among others. Education Base may be be utilized for commercial and corporate websites, as well as for one-page websites and landing pages. The comprehensive theme choices, as well as the numerous widgets with drag and drop functionality, will assist you in customizing your site to your specifications.
School Time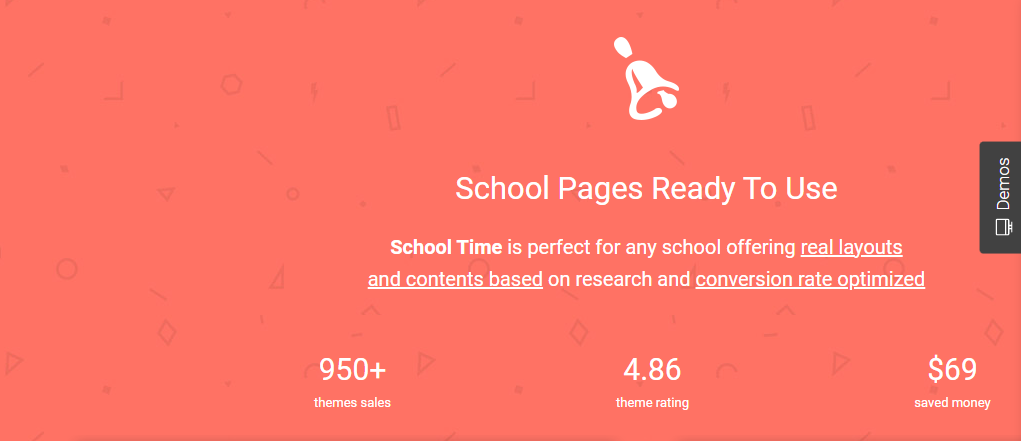 The School is a stunning WordPress theme available for purchase from the MyThemeShop shop. All of their themes are search engine optimized and extremely fast. This theme is yet another stunning design from the well-known shop, and it comes packed with plenty of useful features that will help you build a great website. With a stunning design that will quickly draw in any visitor to your site, it is built with HTML5 and CSS3 coding to ensure that it is a high-performing design that will last for years..
Education Monal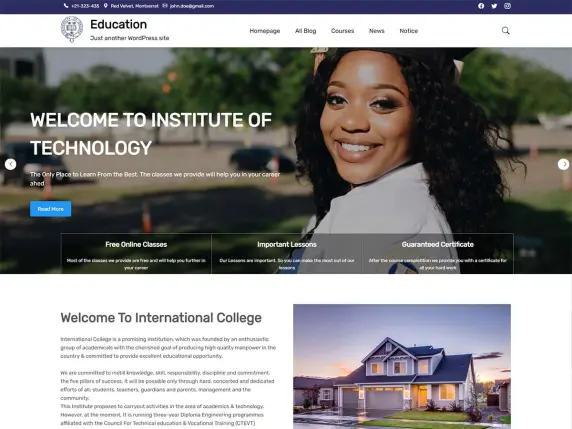 Education Monal is a Genesis Child Theme that has been designed specifically for educational websites such as schools and universities. It's a straightforward and basic style that will assist you in developing an SEO-friendly website for your college or organization. This theme provides you with a variety of page layouts and color schemes to help you customize your website. It also gives you with a great style for displaying your announcements, as well as a highlighted area for highlighting essential blog entries.
Ed School

Ed School is a WordPress theme dedicated to education for children and teenagers. It is appropriate for use in elementary, middle, and high schools. ED School is a first-of-its-kind educational platform that includes several easy-to-use features. WPBakery page builder is used in conjunction with a superb mega menu to create this website. You may also get help from manuals and video tutorials to make the construction process easier. Besides that, Ed School is a fantastic interactive approach to teach children, thanks to its current design and dynamic layout. Create class schedules using a calendar and customize the ambience with an endless number of colors.
Eikra

Eikra is a strong and mobile-friendly WordPress theme that is geared at education. It is designed to offer an SEO-friendly framework as well as a robust administration panel. Create lessons for students by publishing them on one of 14 homepage variants (including multipage and one-page versions). A one-click import technique is provided, and you can also activate the child theme if you want to work with a demo. Equipped with a Layer Slider and over 20 different header styles, Eikra is ready to present information. Three courses and three research formats are available for customization, which is a really useful teaching element. With WPML, you may translate the entire website for foreign students to their native language.
Skilled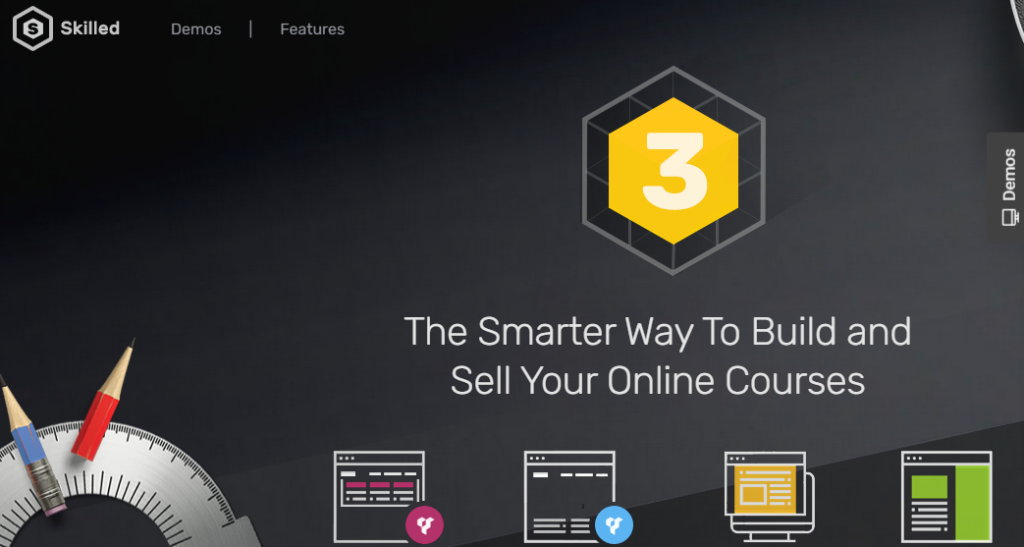 Skilled is a powerful and dependable framework that allows anybody to create useful instructional websites with minimal effort. Soon, you will be able to enter the market with a personalized Skilled website. Skilled may be made to seem as beautiful or as serious as you like using the WPBakery and Ultimate Add-ons, as well as the LayerSlider. Skilled was created by a team of developers that integrated nine example websites inside the theme, making the initial setup procedure as simple as possible.
Masterstudy

Masterstudy is a WordPress theme that has been specifically designed for e-learning programmes and classes. The theme's developers created it to make it simple to build courses that include informative explanations. It makes use of the Redux Framework to enhance the theme options panel, which has a large number of setup choices. The theme is completely integrated with WPBakery, allowing you to quickly and simply design page layouts. Furthermore, Masterstudy gives you the ability to develop both paid and free online courses. Because this theme is compatible with the WooCommerce plugin, it makes it simple to establish pricing and collect payments online.
LMS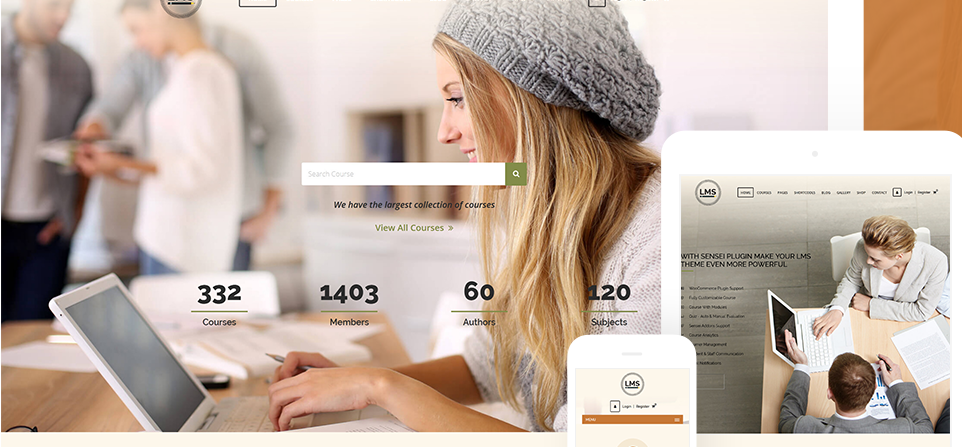 This WordPress theme for Learning Management is important since it allows users to set up profiles for instructors, online courses, lesson management, video hosting, quizzes, and other features such as these. This theme also contains a fantastic page builder, which allows you to customize your website to your liking. Site owners may create educational courses, captivating lectures, and hard quizzes for their visitors. (There is also a registration system.) The fantastic Sensei plugin is also supported by the LMS.
Educavo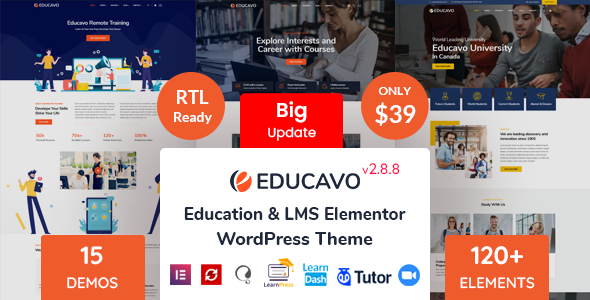 Using Educavo, you may deliver your courses in a variety of ways. A wide variety of templates for your courses and other material may be found on the Educavo demo websites that come with the software. WordPress educational plugins such as LearnPress, LearnDash, and Tutor LMS are supported by the Educavo templates. As a result, you won't be restricted to using a single plugin on your website. The WooCommerce plugin for Educavo is well supported. WooCommerce's educational add-ons may also be used to enrich your website in addition to handling financial transactions and selling things.
Baby Kids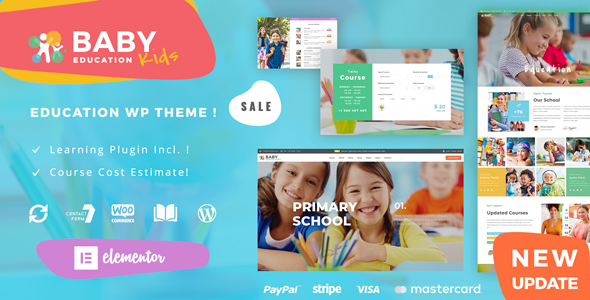 For kindergartens and primary schools, Baby Kids is a fun-filled theme that's ideal. Parallax scrolling on the home page and other customization possibilities give your school's website a fresh, contemporary design. WPakery Page Builder is a WordPress plugin that lets you build bespoke pages. Page styles are available for individual instructors, courses, events, and excursions, as well as groups of teachers and event and course archives. You may use the Timetable plugin to put up a timetable and then filter it by courses and events. Each page and post can have its own sidebar. In addition to layouts, you can select from hundreds of Google Fonts and adjust the background and color.
Education Zone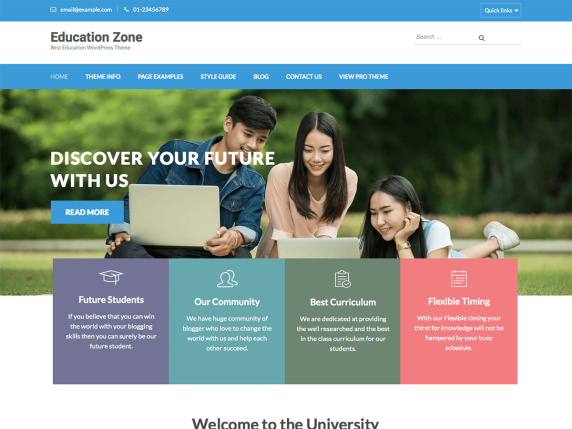 For those who want to build an instructional website, Education Zone Pro is the best option for you. It's time to stop searching for a university or school website since Education Zone Pro includes everything you need in one place: a well-designed and well-organized design, five unique pages, responsiveness, and a responsive design (your current and prospective student can visit your website in any devices without any problem). Training centers, schools, daycares, and other non-profit organizations should use the free Educational Zone WordPress theme. I like the colors on the front page. A live preview of your changes is available in the WordPress customizer, making it easy to set up and customize the theme.
Online Education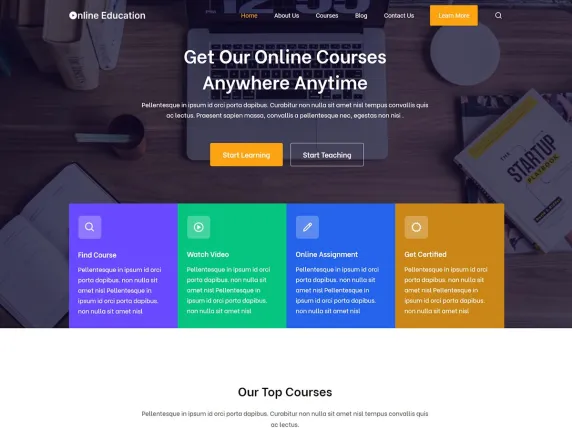 Online Education is a free WordPress eLearning or Learning Management System (LMS) theme. There are no conflicts between this theme and the Masteriyo Learning Management System plugin. When you combine the Online Education theme with Masteriyo, you can quickly develop online courses and sell them to your customers. Online Education is a lightweight, yet extremely powerful, solution that includes a plethora of features and is supported by free assistance.
Study Education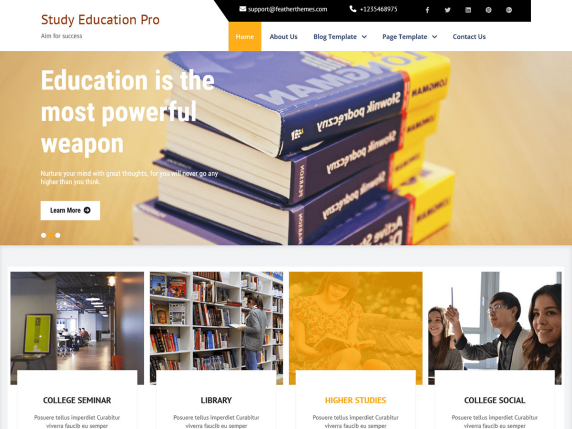 Simple, Clean, and Elegant Education WordPress Theme with a nice vibe is what you will find in this theme. Colleges, universities, schools, and a variety of other education-based websites may all benefit from using it because it is so simple to use and set up. Despite the fact that the topic is intended for educational reasons, it will also be used in other commercial and corporate domains. It has sophisticated Theme Options that are based on the Customizer API, and it is very customizable.
Educator Education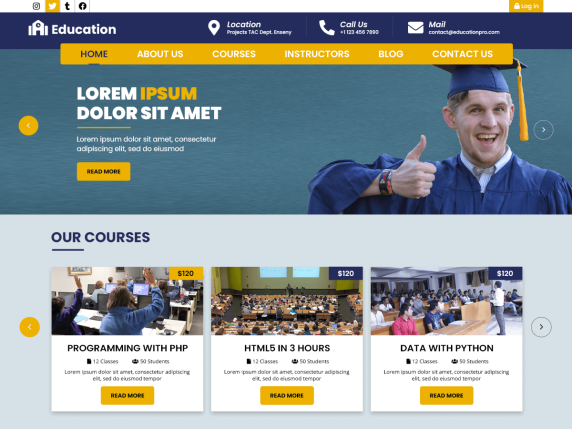 Teachers, tutors, educational institutions, learning management systems, coaching centres, language schools, and e-learning portals may all benefit from the clean, straightforward design of Educator Education, a professionally created WordPress theme. The design's adaptability and responsiveness will allow it to operate effectively on a wide range of displays and devices. Websites may be built by anybody, regardless of coding expertise because to the user-friendly interface. It's has a customizable layout that lets you make a few tweaks to suit your preferences. SEO-friendly HTML codes included into the design mean there's not much more work than just choosing the right term to improve your SEO rankings.
Grand College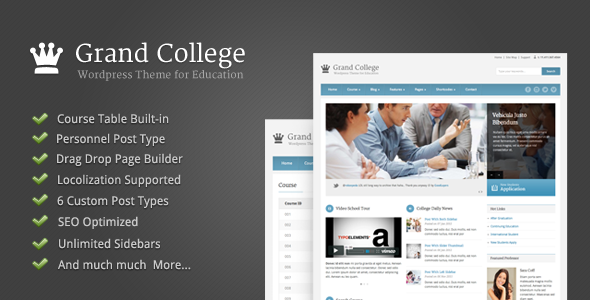 The Grand College design theme contains a Course Post Type function, advanced administration panel, and is designed for usage at the university and college level with simplicity. The WordPress customizer allows you to see a live preview of your changes, making it simple to set up and customize the theme.
Educenter
Educenter is a well-designed WordPress theme with a grid-based layout that is suitable for educational websites. It is designed in a straightforward manner, yet it is really effective. By using an appealing style, you can simply demonstrate your educational courses to prospects while also providing them with other useful information. This theme includes the SiteOrigin page builder plugin, which gives you a great deal of flexibility in modifying the appearance of your website. With this plugin, you may easily modify the layout of your website by dragging and dropping elements. More than seven unique widgets are available to you to use to enhance the operation of your website.
Smarty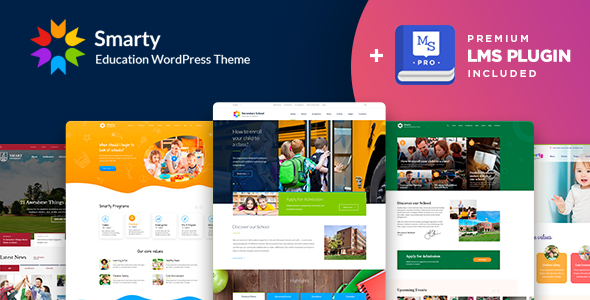 Teacher profiles, courses and class schedules, activities, and contribution payment portals may all be added to this theme, which has been hailed as a great educational theme. Although the opportunity for instructors to publish their timetable in schedule form and make it publicly available is our favorite feature of this theme, we believe it is the capacity for educational institutions to leave conferences and meetings to be scheduled by educators and parents themselves.
Kiddie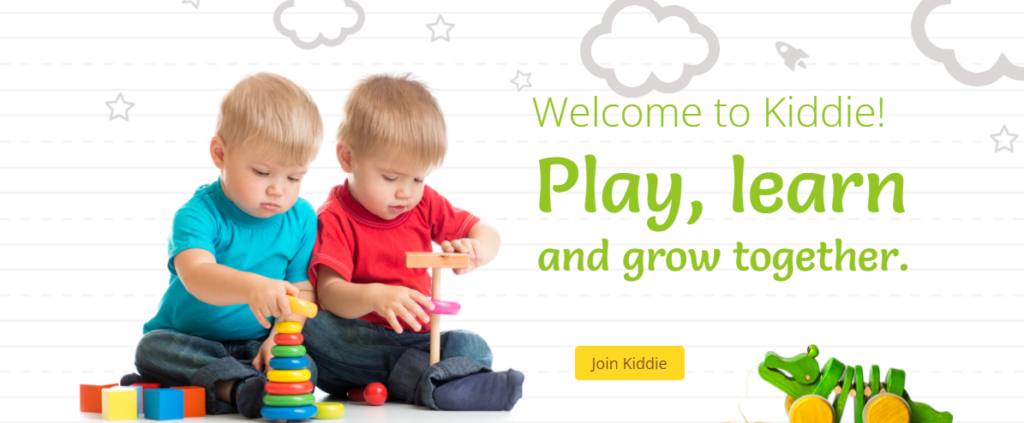 It is a fully responsive Kindergarten WordPress Theme and Retina Optimized suitable for children-related projects such as kindergartens, preschools, and child care center and they did a good job. It is clean, childish, and friendly with all the necessary design and typography rules so that it can appeal to everyone who comes across it.
Conclusion
All of the educational WordPress themes listed above were built specifically for this purpose. With a one-click sample installation, most of the themes make it incredibly simple for any user to set up a website in minutes.