While there are ebook-specific tablets like the Kindle Fire, you don't have to shell out hundreds of dollars for one to enjoy reading ebooks as well. To be honest, reading them on a Windows computer is much the same. A convertible or 2-in-1 Windows laptop is even better because it can be held in one hand and read Epubs like a dedicated tablet. To read, all you need is an excellent epub reader for windows on your mobile device. Even though there are several Epub programmes for Windows, not every one of them is created the same. As a result, we've put up a ranking of the top epub reader for windows for your convenience.
You may quickly get to the related programme by clicking on the link below. Aside from that, if you want to understand more about Epub readers, you can read our explanation right here. A PC Epub Reader is a software application that opens and processes electronic books (a digital version of a physical book). As with PDF, it's an XML-based file format with broad interoperability across a variety of tools and systems. You may read digital books on your computer, smartphone, or any other electronic device with an Epub reader.
Calibre

This Epub reader for Windows is one of the most well-known and reliable options available. In addition to downloading Epubs, maintaining metadata, and downloading book covers, the programme also allows you to move books across devices and even convert them into other formats. Calibre may be used to read Epub novels as well as periodicals, comics, and other types of content. Calibre is unquestionably the best Epub reader available for Windows PCs right now.
Sumatra PDF Reader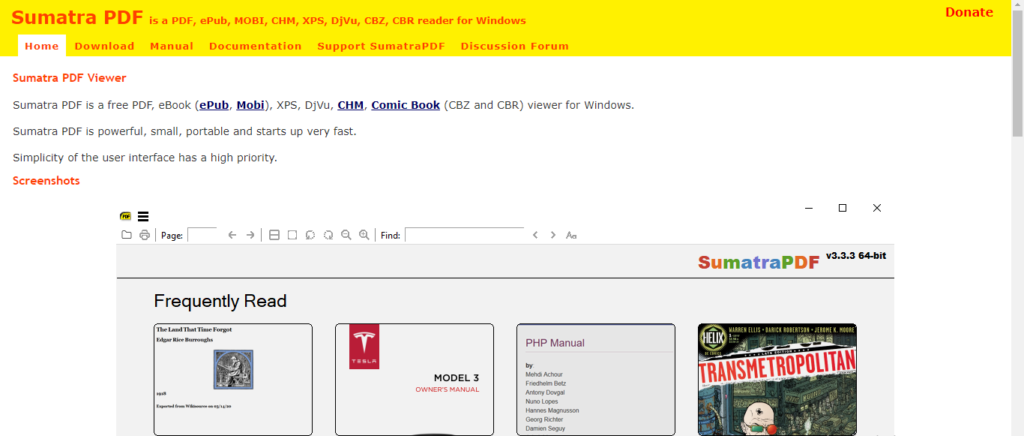 In spite of the fact that Calibre is an excellent programme that works well for the vast majority of users, some have complained about the program's slowness while opening new books. If you're looking for something similar to Calibre, but with better performance and more current features, the Sumatra PDF Reader is a great option. It's a plug-and-play Epub reader that's incredibly small and light. Bookmarks, background colour changes, automated text scaling, and many more features are all supported by this programme. That it opens big Epub files with perfect indentation and tree-like chapters without a hitch is just the icing on the cake, really. As far as I'm concerned, Sumatra PDF Reader is the greatest choice for Windows Epub readers since it just works.
Freda

Because of the way it appears, Freda is one of my favourite Epub readers on Windows. Epubs appear stunning when read on this app since it mimics the look and feel of a genuine Windows 10 programme. One of the best aspects of this software is the ability to alter the app's appearance and feel using the theming capabilities. Beyond Epub, the programme is also compatible with Mobi and FB2, HTML and TXT files. More than 50,000 public domain classic books are also available for free through Feedbooks, Gutenberg, and other online libraries, thanks to the app. Freda is a great option if appearances are important to you.
Icecream Epub Reader
An software business called Icecream applications has created numerous excellent Windows PC programmes, and its Epub reader is my personal favourite. Not only does their Epub reader look great, but it also offers a slew of useful features, such as full-screen mode support, amazing search capabilities, simple page flipping mechanics, reading progress monitoring, and more. Other than the above characteristics, I like the reader's compatibility for a variety of ebook formats, such as Epub, Mobi, FB2, and more.
Cover

Cover is primarily a comic book reading programme for Windows PCs, but it has earned a spot on the list since it also supports the Epub format. This software is on the list mostly because it was designed for comics, and as a result it works well when reading books with a lot of images. Even though all of the other applications on our list are capable of handling photos, only Cover excels at it. Cover is a wonderful choice if you want books with a lot of graphics. While this app may not be for everyone, it's the best out there for fans of comics and manga.
Kobo

While Kobo is an ebook reading app, it also lets you buy books from its shop, similar to Kindle's functionality. To compare, unlike the Kindle, the Kobo has compatibility for both the Epub and Epub 3 file formats. Search, bookmarks, progress tracking, theming, and more are all included in the programme, which is typical of an Epub reader. Most people choose Kobo because of its shop, which has over 5 million free and low-cost eBooks, comics, and children's books to explore and buy. It's one of the top epub readers for Windows since it lets you read all the newest ebooks as soon as they're available and buy them.
Nook

Barnes and Noble is the world's largest bookshop, so the odds are minimal that you haven't heard of it if you like books. However, the success of Amazon's Kindle platform prompted Barnes and Noble, a major offline shop, to establish its own online book service, dubbed Nook. Just like the Kobo app, the Nook app gives you access to a marketplace where you can purchase Epub books. You receive a 14-day free trial when you join up for the service, so you may try out any book or magazine you like. If you like what you see during the trial time, you may opt to buy the books or subscribe to the periodicals. In addition, you may peruse books with multiple fonts, line spacing, and themes, online sync between devices, and access to thousands of classics with the app.
Adobe Digital Editions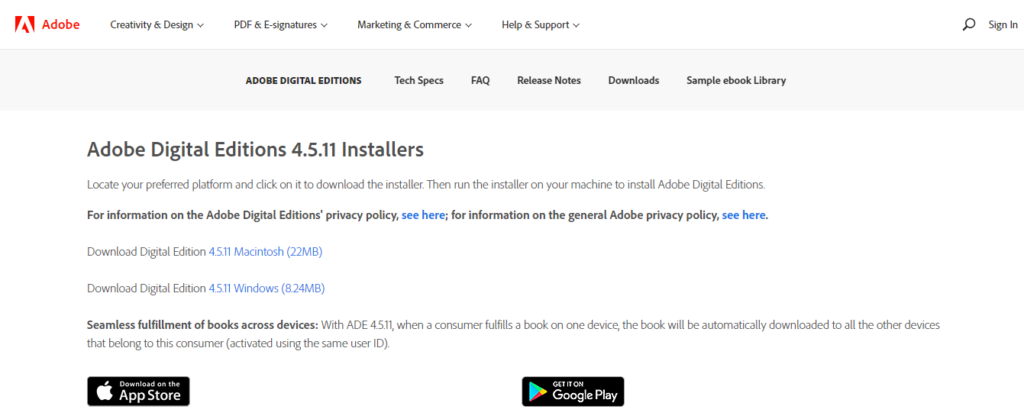 For Windows PC, Adobe Digital Editions is a superb Epub reader that lets users consume their favourite titles. If one firm provides software for practically all types of creative content creation and consumption, it is Adobe. Because it supports EPUB 3 standard, Adobe Digital Editions provides customers a better reading experience by supporting right-to-left reading, dynamic picture scaling without loss of clarity or interactivity. It also has superior math formula rendering. Digital Editions also includes a tonne of useful features, such as amazing search capabilities, the option to borrow or lease Epub books from public libraries, multi-lingual support, bookmarking and highlighting tools as well as note-taking tools. Adobe Digital Edition is the programme you use if you want a complete Epub reading experience.
Bibliovore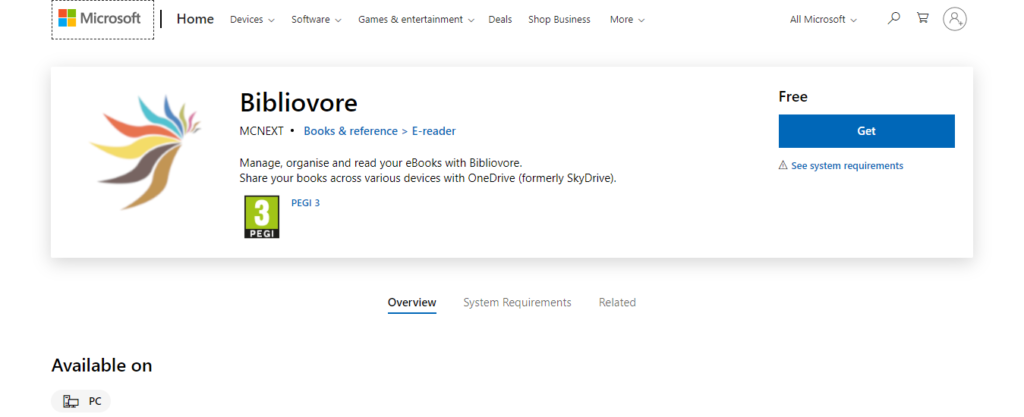 For Windows users, there is Bibliovore, a free Epub reader. The software is available for free download and usage from the Windows app store. This programme is one of my favourites because of the amazing organising capabilities it offers, which make it possible to easily manage even a big collection of books. Using the app, you can also change font settings, control reading themes, alter book information, and more. One of the best benefits of this programme is that it syncs all of your books across all of your devices utilising OneDrive, even though it's completely free. This is, in my opinion, the greatest e-book reader for Windows 10 right now.
Bookviser

Bookviser is a Windows Epub reader that aims to replicate the feel of holding a physical book in your hands. It accomplishes this by creating a user interface (UI) that resembles a genuine book. However, if you dislike the user interface, you can quickly change the settings to have a more typical Epub reading experience. You may download free classics from Feedbooks, Project Gutenberg, and Smashwords with Bookviser just like Freda. It's possible to access all of the other capabilities of an Epub reader from this page as well.
EpubReaderT

The sole paid programme on this list is EpubReader, which is the final Epub reader. You can read Epub books on your Windows PC with this easy tool, which also lets you download books from predefined and personal sources, manage your book collection conveniently, and keep tabs on how far you've read. With this programme, you can move your whole collection to an SD Card or to OneDrive in a matter of seconds. Using EpubReader, you may handle a big number of books on your Windows PC without using up a lot of storage space.
Readium

For all of your web reading requirements, there's Readium, a free and open-source Epub reader. If you want to read Epub books but don't want to download any apps, you may use Readium. To read Epubs online, you can use Readium, a Google Chrome addon. You may even read books that you've uploaded to Readium. For those who want to read books without having to download any apps, this is an excellent option. Additionally, the extension is compatible with the new Microsoft Edge browser, which runs on the Chromium engine. If you haven't tried Microsoft's new Edge browser yet, I highly recommend it. In addition, here is a guide on how to install Chrome extensions on the Microsoft Edge browser to get you started.
Google Play Books

Google Play Books has an ePub reader. With this app, you can listen to audiobooks and read ebooks that you've purchased from Google Play's bookstore. There are millions of audiobooks, comics, ebooks, or textbooks available to select from. Additionally, you may tailor book suggestions using the app's personalization features. As a result, once you've finished reading one book, you can easily go on to another one based on recommendations. There's nothing better than being able to download any audiobook or ebook for free without having to sign up for a membership service. Before purchase, you may read a sample of the book to get a feel for what it's like. On Windows 10, you may read these books, comics, and audiobooks using the Chrome browser extension. In addition, it has day and night modes for a more enjoyable gaming experience.
Neat Reader – Windows EPUB Reader

Despite the fact that the Neat reader app is available for Android, we believe that its powerful PC version is superior. The Neat reader was first introduced to the market as a replacement for Microsoft Edge. As time has passed, Neat Reader has improved and matured to the point where it has earned its proper place in the epub reader market. This programme has most of the additional features you'd expect from an epub reader.
Sigil

Epub files may be viewed for free using Sigil, an open-source Epub viewer. It's also free to modify ebooks with it. A menu bar with shortcuts is offered at the top of the user interface. You may start reading a book in the View panel by opening it from a folder. It's possible to read any subject or chapter by just double-clicking on it in the Book Browser choices.
Azardi

Azardi is a freeware epub reader that can be downloaded and used on any computer. It gives you a unique reading experience by presenting you with only a few selections for epub ebooks. There is no way to modify an ebook with this programme; you can just open it. Your library and the self-created library shelf will both benefit from this epub file viewer. In table or thumbnail view you may see all the ebooks you've uploaded, including information like the title and file type. A publisher shelf may also be created and updated. Through the Add Book option, you may add a single book or a collection of books to the currently chosen shelf. To read or view an e-book, simply double-click on the cover image of the book. A single chapter may be selected from the Contents menu while you read with this epub file reader. This menu is displayed as a yellow panel on the interface's right side. Hovering the mouse pointer over it will bring up the whole contents of the screen.
BlueFire Reader

Bluefire Reader is a piece of software for reading e-books. In addition to reading an ebook, it also enables you add bookmarks and export text-format notes from ebooks. As with other epub reader software, you can add books to your library by selecting them from the menu bar. You can't edit books with it, but you can simply read them.
The book may be opened with a double click. Info shows the location, format, and other characteristics of books. Colors, fonts, line spacing, and orientation may all be customised with Epub Setting. Any word, phrase, or letter in the book may be searched for. You may add a bookmark to any page using the Bookmark option. The contents of the book are shown in a separate panel under the heading Contents.
EDS epub Reader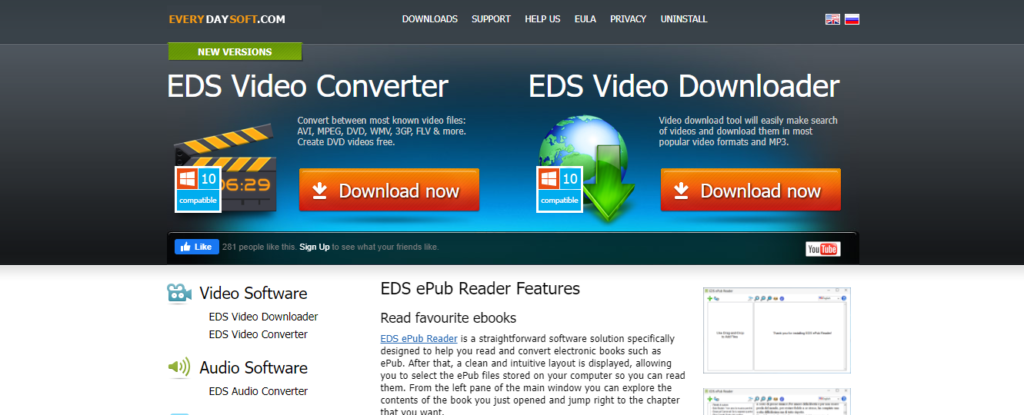 Download EDS epub reader for free This programme helps you see ebooks and convert them to PDF using its View feature. A very basic interactive window with a limited number of helpful choices is provided by the programme.
There are two icons on the right side of the screen; the first imports the ebook, and the second saves it in PDF format for later use. With the Show/Conceal option, you may show or hide table contents. Toggle between day and night viewing modes using the Night Mode option. Book information is shown in the form of author, title, publisher, and so on. Before saving the ebook as a PDF file, you may make changes to the page size, font, font style, font size, font effect, font colour, script, background colour, and title.
AlfaReader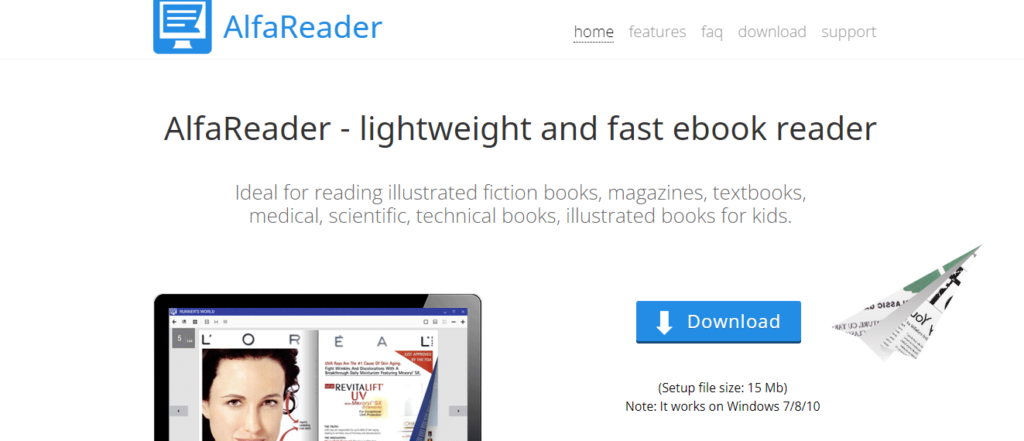 You can read epub and TXT files as well as PDFs and magazines using AlfaReader, which is free to use and download. It necessitates the installation of Dot Net Framework 4 on your PC. Using it, you may read ebooks and eMagazines in a beautiful interface.
Viewporter Epub Viewer

It's possible to read an ebook in an entirely new way using Viewporter epub reader software. As an added bonus, you can include memos in your ebook and highlight text with one of four distinct colours.
Epubor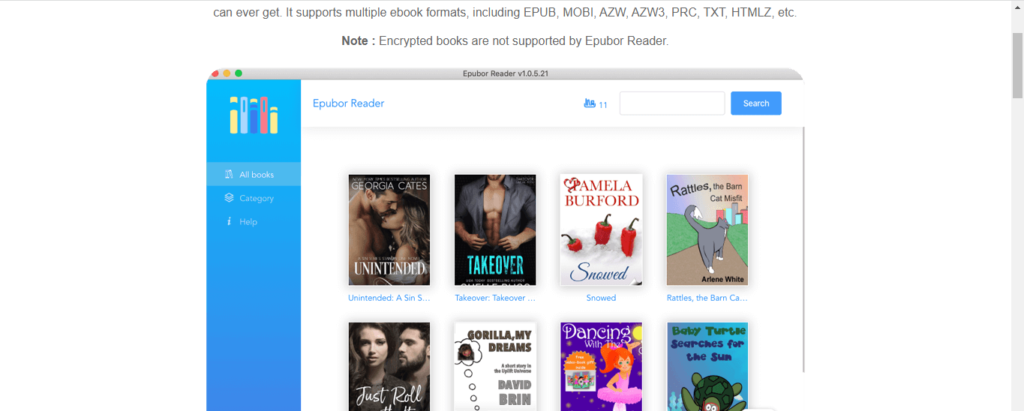 There's also the free eBook reader Epubor Reader. Ebook formats supported include: ePub/Mobi/PDF/Topaz/AZW3/TXT/PRC/HTMLz. It has an easy-to-use interface that makes reading ebooks a breeze. Use the Open Book icon on your PC to upload a book. Scroll your mouse up and down to read your book in the reading panel. The Table of Contents may be used to jump to any chapter or subject you like. The page number appears in a rectangular box at the very top of the screen. Page numbers can be entered in the rectangular box to read a specific page. You may change the text's backdrop colour by filling in a square box. Arial is the default Font style, but you can choose from a variety of others.
Conclusion
E-books are rapidly replacing physical books as the standard and are likely to do so in the near future. For those that read epub novels, all of the following tools will provide a satisfying reading experience since they all support the epub file format.