One of the most crucial parts of product development is the user experience. Creating a user-friendly environment is the most important goal of product design. Accessibility is critical to the success of every successful app, platform, programme, or website. Being able to effectively convey your vision to your customers and turn your concepts into a working product is an essential part of creating an engaging user experience.
Of course this is just the beginning of the process; you'll need to get feedback from users and add upgrades and improvements later on. The pricing, availability, and learning curve of UX design tools should be taken into account while making a decision. We've opted to divide the procedure into three primary categories since each stage of the process requires a separate set of tools.
Maze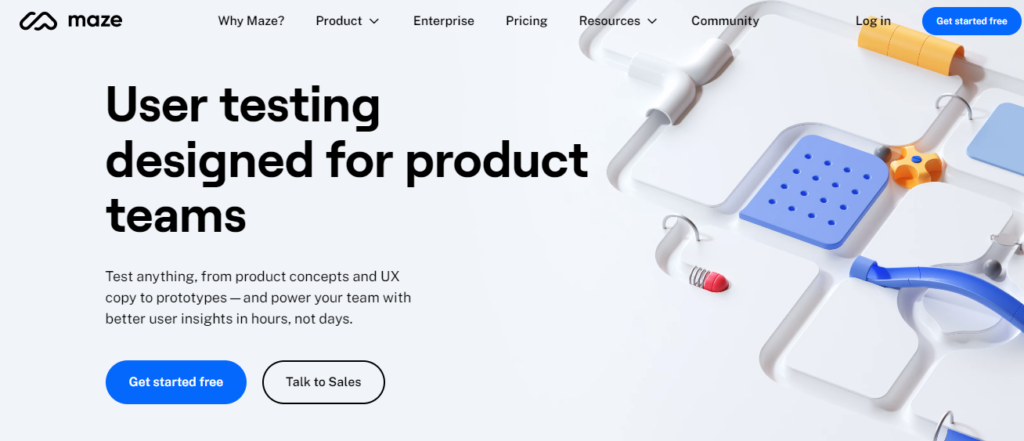 Designers may perform in-depth tests with or without prototypes and test and validate concepts or copy using Maze's sophisticated quick testing platform. Designers benefit greatly from the wide variety of testing options available. For the first time, designers and real users may work more closely together by conducting usability tests that include open-ended follow-up questions. A/B testing, success rates, misclick rates, or page heatmaps may provide designers with relevant quantitative analytics to guide them in the right path.
Prototyping & wireframing tools like Figma, Adobe XD, InVision, Marvel, and Sketch may all be integrated with Maze. Using these UI design tools in conjunction with Maze's testing capabilities ensures that successful design decisions are consistently supported, while bad ones are quickly discarded. Even after the prototype stage is completed and the final product is created, the software can still be valuable to designers. As a result of surveys and user feedback, the product is never too far from what customers want or anticipate.
Sketch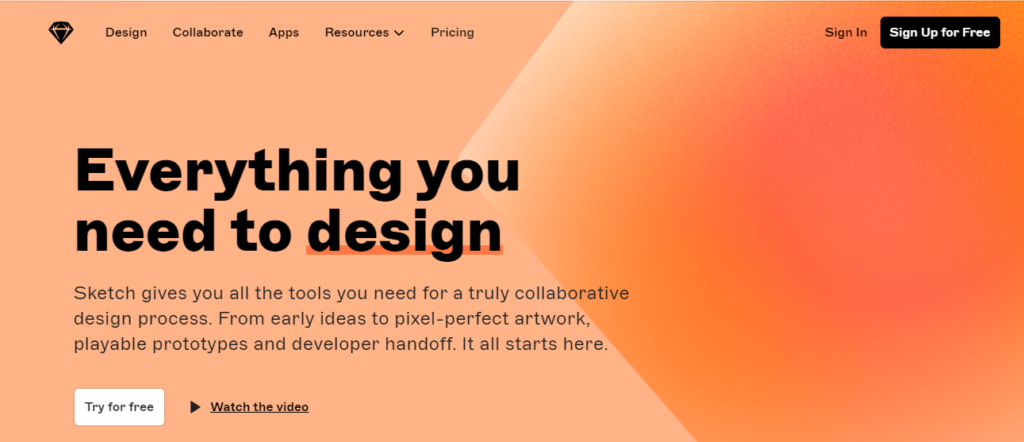 Sketch began out as a web-based product visual design tool, but has now become one of the most popular design tools on the market. Among its simple interface, it's easy to see why the programme is so popular with UI designers who are just starting started in UX design. To compete with Figma, it has a strong capacity to construct stunning user interfaces.
A prototype tool and real-time collaborative capabilities have been added since its inception. It also works seamlessly with third-party plug-ins. As a result, Linux and Windows users will have to search elsewhere if they want to take use of its power in the design world on Mac OS X.
Adobe XD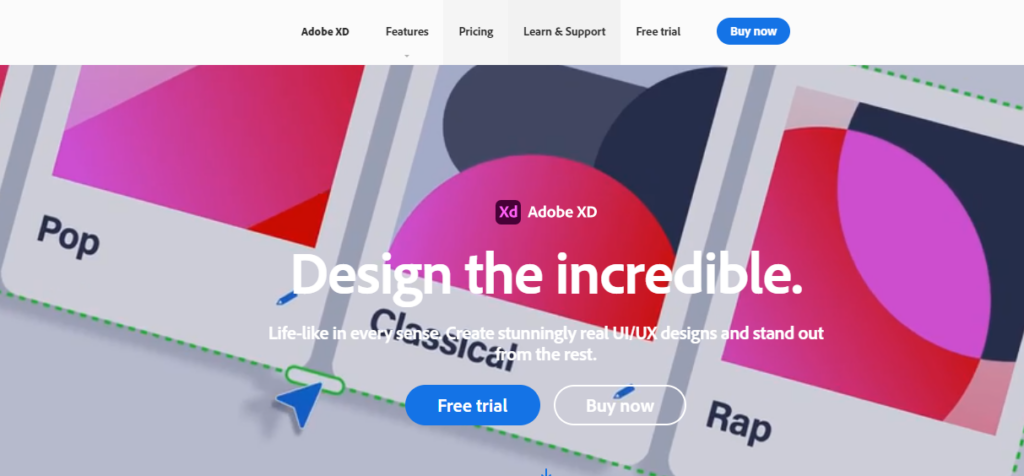 For the creation of online and mobile apps as well as prototypes for new products, Adobe XD is the go-to tool. It gives designers the tools they need to develop fully-fledged prototypes, including processes, components, animated transitions, other dynamic features, and more.
It's a perk of utilising a powerful suite like Adobe's that all of the tools work together seamlessly. Since the Creative Cloud subscription includes a wide range, such as Illustrator and InDesign, larger firms may find it appealing because numerous applications are offered together.
Balsamiq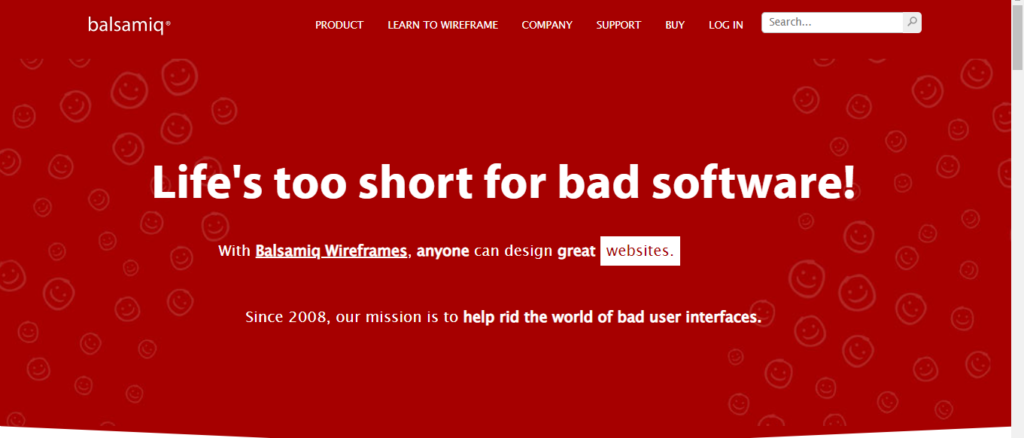 Wireframing tool Balsamiq has long been regarded as the best in the business, and it's simple to understand why. The hand-drawn design necessitates low-fidelity wireframes from UX/UI designers. Because of this, they are free to concentrate only on the usability and user flow of the app.
Even for a UI designer without much technical understanding, this design tool is considered as one of the easiest to start using. Users will be able to swiftly generate mockups while still having access to all of the icons and tools they need to fully realise their visions. Balsamiq is a go-to solution for startups and small teams because of its low startup costs.
Figma

Figma is a popular design tool. Prototypes may be built using a cloud-based programme that provides beautiful design elements. Wireframes and other deliverables like mood boards can also be created using the programme. The layout is expansive, allowing for the comparison of numerous revisions of a project on the same canvas.
Figma's collaborative capabilities allow numerous users to make modifications to a design at the same time, without having to download files locally. Figma can be used on any operating system because to its browser-based capability. For all things design-related, Figma is an excellent choice because it seamlessly connects with programmes like Maze, Zeplin, and Confluence.
InVision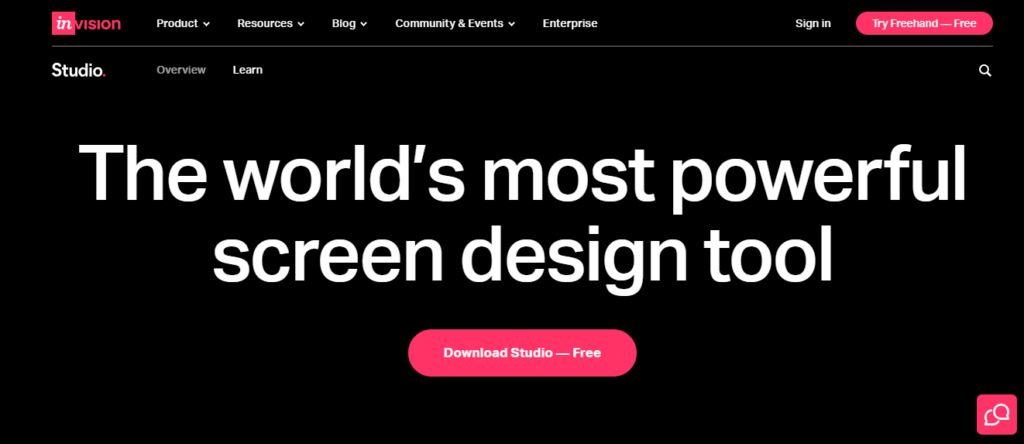 Design tool InVision focuses on providing a great user experience and is adaptable enough to handle a wide range of projects. It is possible for a UX/UI designer to outline the user path, collaborate on early design, and then use Invision's design handoff tools to transfer the design. An all-in-one platform that enables users to go from brainstorming to development is a huge advantage.
Ahead of the others, InVision's prototype tool stands head and shoulders above the rest. Users may collaborate with peers to develop interactive prototypes that automatically adjust to the device and orientation. InVision Studio, a new standalone digital design and UX tool, is also available. An astonishing array of tools, including a vector drawing tool and interactive designs, are available in InVision Studio.
Marvel

In addition to wireframing and prototyping, Marvel provides tools for user testing and user feedback. Makes creating prototypes and developing user interfaces a breeze because to its user-friendly design.
While Marvel provides tools for every stage of the design process, prototyping is its primary focus. Users may quickly construct working prototypes by implementing movements, importing designs, and adding screen components. Even though it's not as advanced as some of the other tools on our list, it's a great option for beginning designers and developers searching for an easy-to-use solution.
Axure

At the same time, Axure doesn't compromise on the quality of its wireframes and low-fi prototypes. To construct prototypes with data-driven interactions, the programme does not require any coding.
Axure makes it simple to add elements like dynamic panels, animations, and graphic interactions that would normally take a lot of work to implement. Additionally, Axure allows numerous designers to collaborate simultaneously on a single project file. However, its high-end cost makes it more attractive to large corporations that can afford to pay for it.
Framer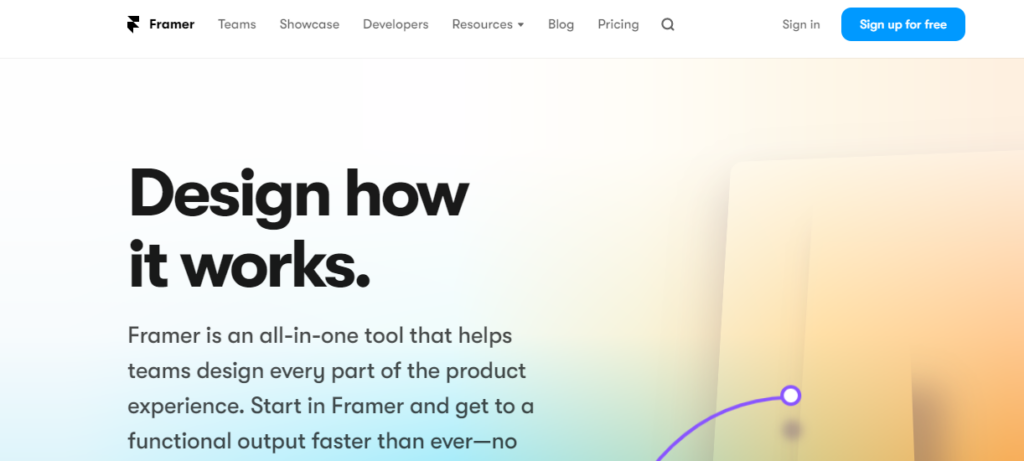 Framer, formerly known as Framer X, is a terrific tool for working on screen design and building high-fidelity prototypes. Framer is noted for having something of a learning curve by requiring a basic degree of CSS and HTML coding understanding for things like interactivity and animations. However, final prototypes built with Framer are about as near to a finished product that a prototype can get.
As a prototyping tool, Framer's primary focus is on wireframing and visual design, but it has also developed a variety of additional features. To make Framer an all-in-one product at a reasonable price, it has also built some rudimentary user testing capabilities.
UXPin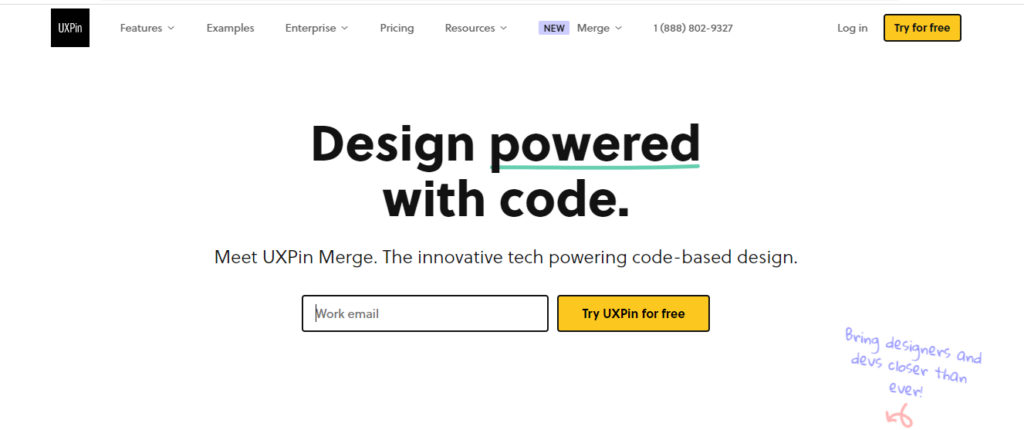 UXPin gives product designers the tools they need to complete their designs from beginning to end, with an emphasis on the end result. For the most intricate and "final" product prototypes on this list, go no further than the prototypes created by this company.
When it comes to interactions, animations, and more, this final result may be reached without the requirement for designers to know how to code. Making high-fidelity prototypes is a breeze because to the tool's drag-and-drop capability. There are no issues with importing and integrating designs from other applications. So, layers aren't lost when adding user-interactive features to photos that are otherwise static.
FlowMapp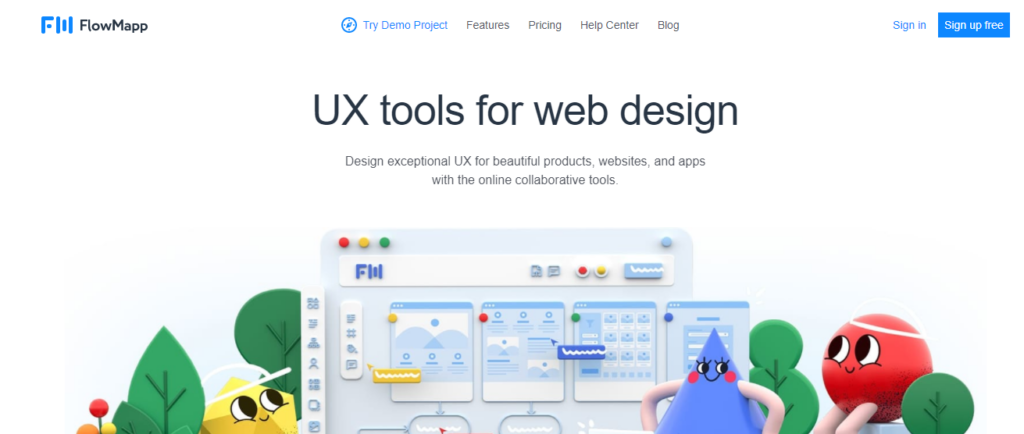 FlowMapp provides a variety of tools for UX/UI design, as well as tools for collaboration, communication, and content preparation. When it comes to UX tools, FlowMapp has a flowchart tool that can be used to design the UI and UX of applications, digital goods, and websites.
Easy-to-use, collaborative sitemap tool that lets you construct separate pages with distinct content and specific page goals. As FlowMapp continues to expand, it offers other services, such as Personas, which allows customers to create buyer personas for their products. FlowMapp is a good solution for small teams since it helps to keep everyone on the same page, which may improve user experience.
Proto.io

Proto.io believes that its UI design tools is "extremely valuable for those who want to develop compelling prototypes." For those of us that are interested in producing something genuine, the tools that come with utilising Proto.io make it easier than ever before to accomplish it. But what I observed is how it smooths up the process of cooperation with the inclusion of a chat messaging function and video comment feedback, as well as some prominent testing programmes like Lookback, Userlytics, and Validately.
There's an easy learning curve for those who are just starting out as designers or those just entering into the company entirely. And as such, I think it pretty much anyone can simply put up mockups using this platform. The tool itself is truly pretty adaptable and works just as wonderfully for UX designers as it does for students – which has helped reinforce Proto.io's appeal among them!
Storybook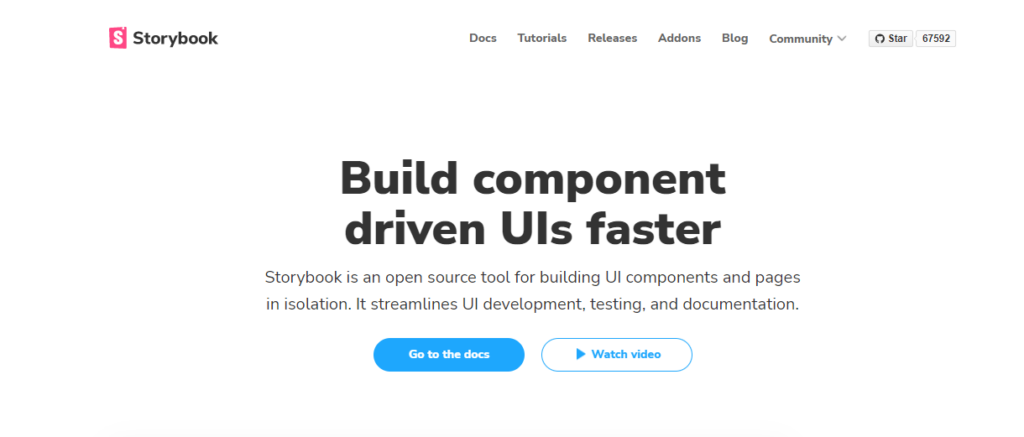 It's vital that each collaborator gets the space they need to work on what they do best, just like there are different tools you could use to manage different areas of your collaborative project. This open-source Storybook Tool, which is used to develop specific UI components without affecting other parts of the design, has add-ons for reuse and automated testing, so you're ready for both success & style!
Conclusion
Despite the fact that a tool's number appears in the list, it does not necessarily indicate its capabilities. UI and UX designers may benefit from a wide range of UX tools. Determine your needs and your budget before settling on a piece of software. So, go to work on your study and build interactive prototypes, wireframes, and a smooth user experience.